Cat Cat village presentation
Are you tired from the intense city life and look for a bubble to breath and find your energy back? Do not look too far and go to one of Sapa's treasure: Cat Cat village. This village has preserved an important part of its traditions. This will assure you an unforgettable experience.
Location
In the Muong Hoa valley, not so far from Sapa lays the Cat Cat village. It is easy to access by walk or motorbike. 1-hour walking is necessary from Sapa center to reach this village, where the H'mong's community lives.
The Cat Cat village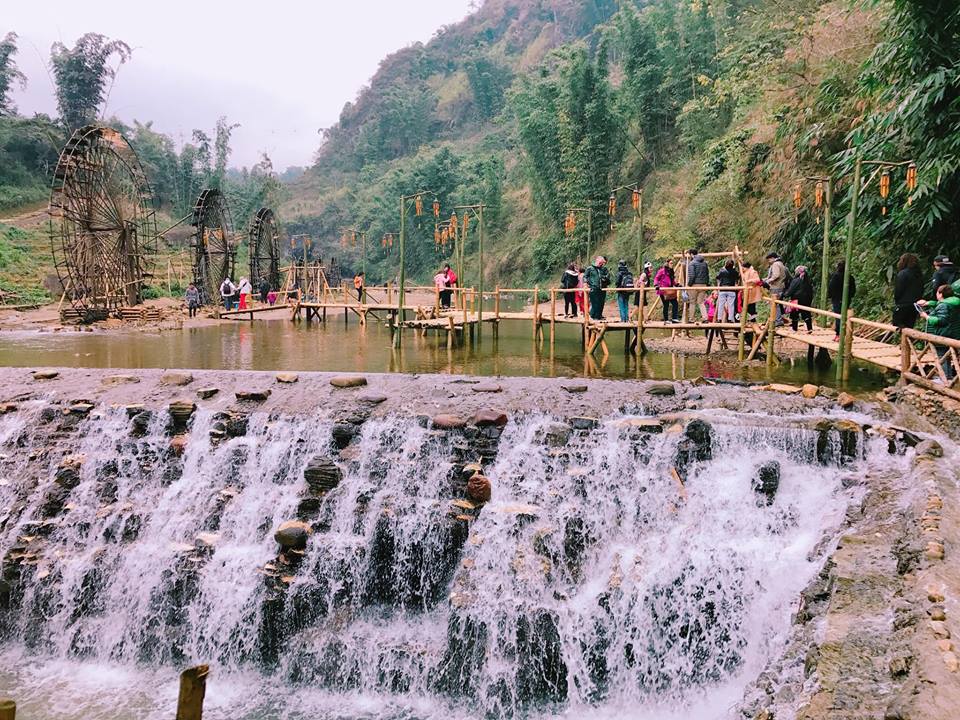 This village appeared in the 19th century. Along the way, you will see the small villages with the traditional houses spread around the various hills. You then see the Black H'mong traditional architecture traits.
The idea of private property is totally different from ours. Besides, from a house to another there are only wide fields and rice terraces that separate them. There is not such a thing as fences. It is a real serene landscape that is being served to your eyes.
The traditional house display is like the following : 3 rooms with 3 entrances. Then main room entrance door that leads outside of the home is always closed. It is only opened when there are big events such as weddings, funerals or a few days during Têt. There are wooded floor and walls. The roof is generally in a plant-based material. Indeed, it is important for the waterproof and ventilation of the house. You will also see 3 big columns with circled or squared bases inside the home. Sure, there is a separation (curtain or wooded wall) between the private and public area. Eventually, you have a corner dedicated for cooking, another for some stocks and a place for ancestors' celebration.
The Black H'mong traditions at the Cat Cat Village
The handcrafts play a big role in the daily life of Black H'mong. Theur secular know-how enable them to keep up with their ancient traditions. Hence, you get to buy some very unique souvenirs over. Broideries, scarfs or pillow cases are often hand-decorated with drawings from Black H'mong women.
The linen is the main fabric on which Black H'mong sew. To color it, they only use natural coloring plants.
Eventually, hand-made objects like bronze jewelry (bracelets, chains or rings) are very appreciated as souvenirs. Women use them as outfit complementary jewels, to enlighten even more their beauty.
Another tradition, is « pull the woman » among the H'mong. Indeed, if a young man falls in love with a young lady, he can ask her friends to bring her to his home for 3 days. The lady will take part in the daily life of the young man's family. Once the 3 days trial is finished, if she agrees to become his wife, then they get married. However, if she refuses, the both of them have to drink a bowl of alcohol to become friends. According to the tradition, a Black H'mong wedding lasts between 2 to 7 days.
Activities
You can simply begin with a walk. According to your pace and physical condition, you can reach this village within 30 minutes to 45 minutes, located near the center of Sapa.
Trekking through the mountains also give visitors many beautiful landscapes with rice terraces, waterfalls or grazing buffalos.
It is also interesting to visit nearby local markets and see the people in their daily life. It is also an opportunity to have a go and taste local food, always delicious when freshly cooked from the markets.